Your Hunt for Real Electrical Connector Ends Here....
Also we can provide crimping tools against order..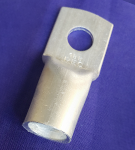 At REC's, quality is always on highest priority. we're given the exact technical specifications and drawings, we can manufacture to any other country-specific standard. We will deliver products adhering to the highest standards. We commit ourselves to deliver products and services on time, at the right price and to the complete satisfaction of the customer. Our endeavour will continue to be the leader in our field. We will keep on upgrading our product designs to match the latest technologies. Continuous process improvement through reduction of scrap and re-work. Elimination of customer-complaints.Timely deliveries through innovative processes.
Best In Class
"Cable Lugs"